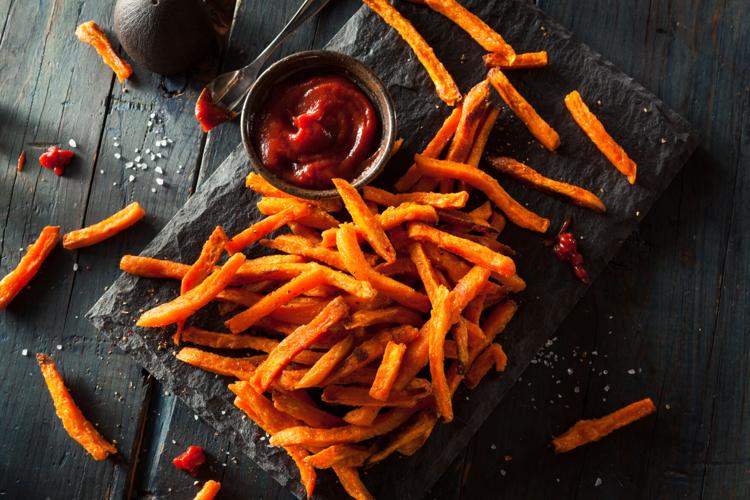 Perhaps you're like many people these days who are looking to eat healthy but don't want to eat bland boring foods to do so. If that's the case I have good news, baked sweet potatoes are not only delicious and have many essential vitamins and nutrients and they are some of the tastiest foods you can find, making them an incredible choice for both health seekers and foodies. We are going to showcase some of the very best baked sweet potato recipes out there and go over some of the many health benefits of this miracle food. If you are interested in finding out more about one of nature's most complete health foods, read on in our article titled: Baked sweet potatoes: eating healthy and delicious.
Sweet potatoes are sweet, starchy root vegetables that are grown all over the world. They come in an array of sizes and colors, including orange, white, and purple,  and they are rich in vitamins, minerals, antioxidants, and fiber. Not to mention, they provide many health benefits and are very easy to add to your diet. Sweet potatoes are rich in Vitamin A, in fact they provide a whopping 769 percent of the daily recommended amount in a single serving. Vitamin A is essential in maintaining a healthy immune system and studies have shown that vitamin A improves eyesight as well as supporting healthy bones.
We know sweet potatoes are healthy, but how to cook these incredible veggies to make them irresistible to even the pickiest eater? One of the very best recipes is the simplest: the baked sweet potato. Here's what I like to do, first, wash the sweet potato clean and allow it to dry on a clean kitchen cloth. Next, Line your baking sheet with foil. Sweet potatoes tend to get a little juicy while baking, so lining the baking sheet first insures an easy clean up. Parchment paper works too. Don't forget to poke a few holes in your sweet potato, this reduces baking time and ensures the potatoes won't burst. Some recipes call for rubbing the sweet potatoes in olive oil after pricking, but I find that it's not necessary. Finally, Bake until tender. How can you tell when they're done? Stick a fork into the thickest part of the potato, if there's no resistance it's good to go. That's it, simple, delicious and very very healthy.
There are so many ways to enjoy baked sweet potatoes, you can drizzle them with a combo of ground cinnamon and maple syrup thinned with a bit of warm water. You can also bake, mash, and fold sweet potatoes into overnight oats; whip them into a smoothie; or puree them with low-sodium organic veggie broth as the base for a soup. Chunked baked sweet potatoes make a fantastic addition to a garden salad, and crisp oven baked wedges can satisfy a French fry craving. Mashed sweet potato also makes a fantastic addition to desserts and goodies, from no-bake cookies to brownies, pudding, and of course, the classic fall favorite, sweet potato pie.
There are so many reasons to eat baked sweet potatoes, they are easy to make, delicious and incredibly healthy. With a wide variety of options on how to cook, including sweet and savory recipes, there is a sweet potato for every occasion. When you bake a sweet potato, the sweet potato retains most if not all of the wonderful vitamins and nutrients. High in fiber in any form, the sweet potato is one of the healthiest options in any kitchen. No matter what the occasion a sweet potato is a great choice, whether it's a once a year holiday family get-together or a quick meal for a weeknight, sweet potatoes will be a welcome addition to your healthy meals.